OKEECHOBEE, Fla. — Ish Monroe of Hughson, Calif., had one of those magical days all pros dream about: hauling aboard lunker after lunker after lunker. The five best added up to 34 pounds, 5 ounces, giving Monroe the first-day lead in the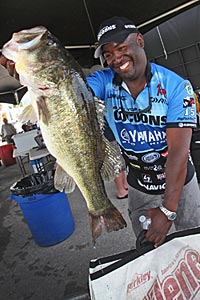 bass fishing tournament on Lake Okeechobee by 8 pounds, 12 ounces, over Davy Hite.
So good was his day, Monroe was able to cull a 6-plus-pounder, trading it in for what turned out to be his largest, a 7-11.
He said he caught every fish by flipping a creature bait called the D Bomb — made by Missile Baits, a company owned by one of his fellow Bassmaster Elite Series pros, John Crews. Monroe rigged it for a large profile, "and those big ones just seemed to hit it," he said.
All his fish came from an area he knew about from previous Okeechobee tournaments. He expected it to produce, but it exceeded his expectations Thursday.
"I thought it would be good for 20 pounds, which I've caught there before. But I never caught what I did today," he said.
On Friday, he expects to repeat his flipping pattern, slow it down and settle in to ferret out the small ditches his fish were holding in. If the lake wind dies down, he said, that will allow him to fish more slowly and effectively.
"The slower I can fish, the better my chances for another big bag like today," Monroe said.
The best part, he said, is that the area might hold out for three more competition days.
"I feel great. After what happened last week, being at the bottom of the pack, I'm feeling good, and I'm catching them the way I want to catch them," said Monroe, who failed to make the Top 50 cut last week in the Elite event on the St. Johns River.
Trailing Monroe was Hite, 1999 Bassmaster Classic champ and two-time Bassmaster Angler of the Year from Ninety Six, S.C. Hite's sack of 25-9 was the result of a midday recovery from a slow start.
"At 10 o'clock, I had a limit that weighed probably 9 pounds, and I kept fishing really hard," he said. He changed areas, and his day turned around.
"When I did get some quality bites, I put every single one of them in the boat, including that 7-pounder," Hite said.
That was the 7-4 that anchored his bag. He almost lost it when it got hung up in some reeds, but he went to it, scooped it out and boated it without trouble.
"That almost never happens that way," he said.
Nate Wellman of Newaygo, Mich., was third with 22-3. In fourth place was 2012 Bassmaster Classic champ Chris Lane of Guntersville, Ala., with 21-15. In fifth place was Lane's brother, Bobby Lane of Lakeland, Fla., just 12 ounces behind with 21-3.
First prize in the March 22-25 competition is $100,000 and an instant qualification for the 2013 Bassmaster Classic. Pros are also fishing for points that count toward a Classic berth, postseason entry and the Bassmaster Angler of the Year award.
A 7-13 was the big bass of the day. Brought in by Kevin Short of Mayflower, Ark., the bass set the bar for the tournament's Big Bass award.
Also on Thursday, Kevin Ledoux of Choctaw, Okla., drove his boat into a shallow area and the boat became stuck. Unable to free the boat by himself, he elected to accept help from his Marshal (the official observer in the boat with him). As a result, Ledoux's Thursday catch was disqualified, the penalty levied for violation of Bassmaster Elite Series rule No. C12, which states, "Marshals are not allowed to help pros in any way." Ledoux reported the incident to B.A.S.S. tournament officials. He told officials that he knew and understood the rule and the penalty before he made the call to accept the Marshal's help.
Lake Okeechobee, Okeechobee FL.
(PROFESSIONAL) Standings Day 1
Angler Hometown No./lbs-oz Pts Total $$$
1. Ish Monroe Hughson, CA 5 34-05 0
Day 1: 5 34-05
2. Davy Hite Ninety Six, SC 5 25-09 0
Day 1: 5 25-09
3. Nate Wellman Newaygo, MI 5 22-03 0
Day 1: 5 22-03
4. Chris Lane Guntersville, AL 5 21-15 0
Day 1: 5 21-15
5. Bobby Lane Lakeland, FL 5 21-03 0
Day 1: 5 21-03
6. Scott Rook Little Rock, AR 5 20-15 0
Day 1: 5 20-15
7. Bradley Roy Lancaster, KY 5 20-09 0
Day 1: 5 20-09
8. Skeet Reese Auburn, CA 5 19-06 0
Day 1: 5 19-06
9. Todd Faircloth Jasper, TX 5 19-06 0
Day 1: 5 19-06
10. Jeff Kriet Ardmore, OK 5 19-05 0
Day 1: 5 19-05
11. Randy Howell Springville, AL 5 18-10 0
Day 1: 5 18-10
12. Kyle A. Fox Lakeland, FL 5 18-01 0
Day 1: 5 18-01
13. Jason Williamson Aiken, SC 5 17-07 0
Day 1: 5 17-07
14. Kevin Short Mayflower, AR 5 17-05 0
Day 1: 5 17-05
15. David Walker Sevierville, TN 5 16-10 0
Day 1: 5 16-10
16. Fletcher Shryock Newcomerstown, OH 5 16-04 0
Day 1: 5 16-04
17. Tommy Biffle Wagoner, OK 5 16-03 0
Day 1: 5 16-03
18. Cliff Crochet Pierre Part, LA 5 16-00 0
Day 1: 5 16-00
19. Jeremy Starks Scott Depot, WV 5 15-12 0
Day 1: 5 15-12
20. Pat Golden Bethlehem, GA 5 15-08 0
Day 1: 5 15-08
20. Michael Iaconelli Pittsgrove, NJ 5 15-08 0
Day 1: 5 15-08
22. Brent Broderick Oregonia, OH 5 15-04 0
Day 1: 5 15-04
23. Rick Clunn Ava, MO 5 15-02 0
Day 1: 5 15-02
24. Ott DeFoe Knoxville, TN 5 14-13 0
Day 1: 5 14-13
25. Bill Lowen Brookville, IN 5 14-11 0
Day 1: 5 14-11
26. Mark Davis Mount Ida, AR 5 14-10 0
Day 1: 5 14-10
27. Britt Myers Lake Wylie, SC 5 14-09 0
Day 1: 5 14-09
28. Russell Parrish Riesel, TX 5 14-08 0