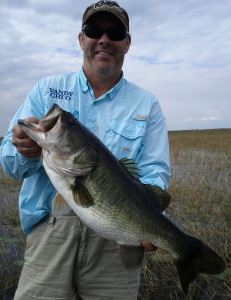 Capt Mark Shepard is the man on Lake Okeechobee, great number and those nice Lake Okeechobee bass.
So, listen in every two weeks for my latest audio Okeechobee fishing reports from the entire Okeechobee Region of Florida.
Till next time tight lines and good fishing…. From Staff Writer Capt. Mark Shepard (marks@bassonline.com) Bass Online.com / 888-829-BASS Capt. Mark Shepard
This past week on the Lake, below David Smith from Colorado, Tim Gaskill. Everyone is coming down to enjoy Florida great weather and Trophy bass fishing.